Lootel is a start-up venture of Dot Box Conception Pvt. Ltd (DBCPL) which is also recognized by Startup India. Lootel has won the National Startup Awards 2021 in the sanitation sector. The Lootel smart restroom café is founded by Yashwant Suthar an Industrial Designer (IIT Delhi) with 7.5 years of OEM Exp. and Neelam Singh is Operation and Quality Expert with 7-year experience. Lootel (Loo of Hotel) is IOT based smart restroom cafe that provides the place for the "Take a Break" with 3R ( Recharge, Refresh, Refuel) model. In that model, We provide commercial services like
"Recharge" – EV charging for two, three, and four-wheelers by slow and fast charging facilities.
"Refresh" – Refresh your body with provides premium quality clean & hygienic restroom services on a commercial basis. where we have clean and hygienic restrooms and shower facilities for the user.
"Refuel" – Refuel your tummy. Lootel cafe works on the Pay, Use and Redeem concept. Where the user needs to pay for restroom usage and the user can redeem the restroom coupon at Lootel cafe on the food and beverages bill.
Lootel works on the Pay, Use, and Redeem concept. Where the user needs to pay for restroom usage and the user can redeem restroom coupons at our adjacent commercial shops like Lootel café on food and beverage bills. Lootel is a complete self-sustainable solution to the public restroom. The Lootel is providing premium quality always cleaned restrooms to the user. Where we have a centralized Air conditioning system, Lighting ambiance, and light background music in restrooms. Lootel is changing the experience of public restrooms in India. 
Lootel smart restroom café provides services like smart restroom, smart get ready, smart get ready, and smart face wash kind of unique and desirable services offered to the customer.
Mission
Provide premium quality always clean and hygienic smart restroom services to every citizen.
Vision
We want to become India's first brand of " Take a Break" place with always clean, hygienic, and premium quality public restrooms with snacks.
Once Neelam Singh, Co-Founder (Wife of Yashwant) and Yashwant (Founder) were traveling by bus. It was midnight time and the bus stopped for the restroom break at the bus stand which was in mid of the city. She wanted to go to the restroom. She went to the nearby public restroom but it was completely messy, stinking, and full of sewage water. Then she decided to go to the dark street as usual as women do in this kind of situation. But at the same time, local drunken guys started to follow her. Meanwhile, Yashwant (Founder) saw that they were following her. It was surprising for him because it is a mutual understanding that the bus stopped and a lady passenger is going in the dark street which means she is going to the toilet as men we should not go there. 
The goon guy almost reached her and she wasn't aware not about him. Yashwant (Founder) shouted at him and he has run away into the dark street. But by god grace, it was just a near-miss incident, but it could be worse and our life could be spoiled. She was completely shocked and mentally disturbed. 
It was a life-changing event for us. Then we started to work on the public toilet problems. We have listed all the problems and concerns about the public toilet and we found that this is a serious problem for women regarding safety and hygiene. Then we found that the main problem is not a public toilet, the ecosystem of maintenance and management of public toilets is the main problem. we have created a sustainable solution to this problem.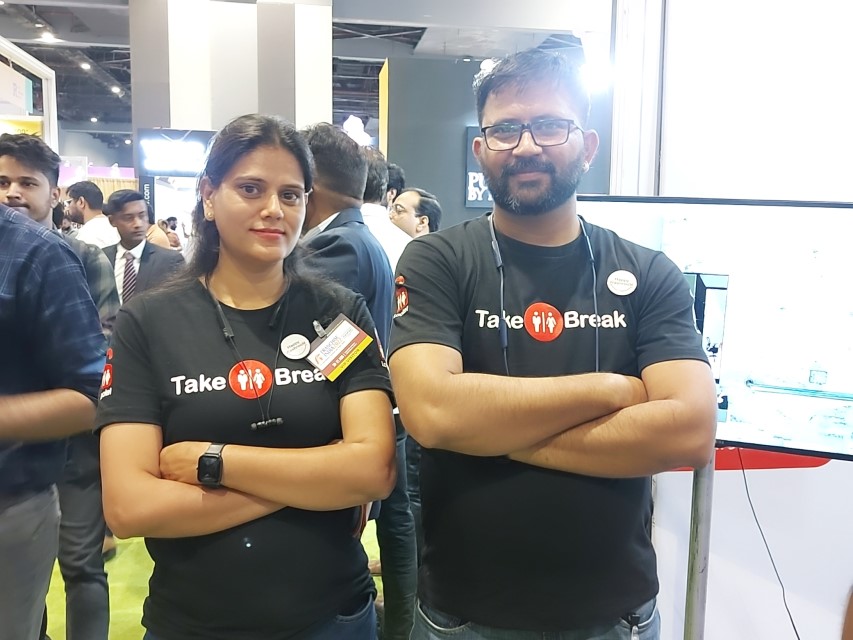 Finally, We have decided that I will leave the job and be completely focused on this project. It was not easy for me as a being a married man at the age of  32 with IIT Post-graduate, I was thinking to leave the MNC job for a good salary for the public toilet operation concept. Some people also quoted that when you only wanted to run the "Sulabh Shochalay" then why did you study at IIT? Somehow, We convinced the family and left the dream job because from childhood I was fascinated by cars and bikes. Yashwant has done ITI (Mechanic Motor vehicle), a Diploma and Bachelor of Engineering in Mechanical, and a Master of Design in Industrial Design (IIT Delhi) and doing a job in VE commercial vehicle as a bus styling designer which was a dream job for him. But now the public toilet is more fascinating for me.
We wanted to bring this idea on the ground anyhow. But we were not getting a node point for the start. One day we thought why should not we present this idea to the district collector? We met him he liked our idea and he referred us to Municipal Commissioner, Indore municipal corporation, Madhya Pradesh. He liked our idea and gave us demo space for our project for 6 Months only and if found your idea good we will continue with you. To leave the job and invest almost 10 lacs for only the trial project was not easy. We have invested our saved amount which we were saving for a home purchase and we have also borrowed the money from friends and family. We were building sustainable public toilets instead of the dream home. We build India's first completely self-sustainable premium quality public restroom. The municipal corporation was impressed with our design and quality of service and they extended our MoU, as well as, gave another space for the second unit. Currently, we are running four founders' bootstrapped units at the Bus stand, Shopping market, Temple area, and Tehsil office. We have developed a state of art IoT for public toilet operation, management, and quality control. From  Jan 2017 to now we have served restroom service to almost 9.1 lacs, people. We are giving the job to 38 people. We have converted the public toilet problem into an opportunity for jobs and quality of service. Our dream is to build 1000 complete self-sustainable public toilets all over India in the next five years.